K+K Real Time Clock KL-3400
K+K KL-3400 is a clock generator for extreme demands for stability and security. Combining several precision oscillators allows to compensate their differences and to recognize faulty oscillators.

The purpose of the K+K KL-3400 Real Time Software Clock is to provide a stable clock signal based on the short term frequency stability of the built-in OCXO, the medium term frequency stability of a set of atomic clocks, and the long term timing accuracy of a GPS timing receiver, which -- within reasonable limits -- will continue its phase track even if one of the contributing clocks fails.
Benefits from the Software Clock are:
Improved stability as compared to a single atomic clock due to ensemble averaging over a set of up to 7 clocks
Automatic steering to UTC(GPS)
Additional phase and/or frequency steering on operator command
Continuous consistency check among the atomic clocks
Robustness against clock failures
Easy clock maintenance without interruption of the Software Clock output signal
The primary realization of the software clock time scale are a 10 MHz output signal plus a 1PPS timing output coherently derived from these 10 MHz. As an option, additional outputs may be provided as needed.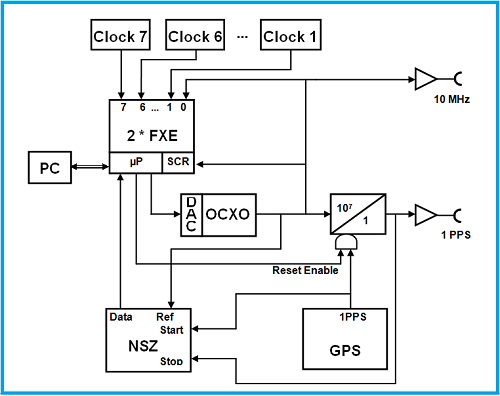 All the components of the K+K KL-3400 Real Time Clock hardware are mounted into a single 19" frame with a width of 84TE and a height of 3HE. It basically consists of
A clock generator board generating (at least) 10MHz and a 1PPS from an OCXO
Two multi-channel phase meter boards for up to 7 clock input channels
A time interval counter for the 1PPS measurement of SWC time to GPS time
A power supply
The hardware of the K+K KL-3400 Real Real Time Clock consists of several boards, each with a front panel.Optional generators for additional signals (like 5MHz or 100MHz), distribution amplifiers etc. complete the picture.

A standard PC running Windows is used as a terminal.

The KL-3400 was developed with support from Physikalisch-Technische Bundesanstalt PTB, Germany, with financial support from Federal Ministry of Economics. It is distributed by Lange Electronic, Gerlinden, Germany.
Product features:
Increased stability compared to a single atomic clock by controlling and averaging up to 15 atomic clocks
Automatic time scale steering based on UTC(GNSS) or a local laboratory time base
Additional phase and frequency offsets by user commands
Permanent supervising of all connected atomic clocks
Automatic removal of faulty clocks
No interruption of the output signal during maintenance procedures
PC connection via LAN
Comes complete with controlling and visualization software
Specific customer adaption possible
Measurement cards specifications:
Phase measurement based on K+K FXE
Clock measurement & OCXO update rate: 10 Hz
Precision phase difference: 1.5 ps @ 100ms
Precision frequency: 1.5E-11 @ 100ms .. 1E-15 @ 1h
Stability of internal OCXOs: 3E-13 @ 1..10s
Phase Noise @ 1Hz: < -116 dBc/Hz
PC connection via LAN
Find out more